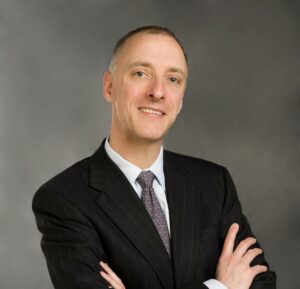 In this edition of Insights, we spotlight former AFCC-CA Board Member the Honorable Christopher R. Bowen.
Judge Bowen is a California native, who has lived for most of his live in the San Francisco Bay Area.  Judge Bowen grew up in Berkeley and then attended college at Santa Clara University.  In his youth, Judge Bowen was very involved in issues related to service.  He was also influenced by the philosophy of social justice and community involvement espoused by Santa Clara.  During college, Judge Bowen volunteered at a shelter for homeless men in San Jose.  He also had the opportunity to study abroad in France for a year.
Following college, Judge Bowen considered different graduate programs or teaching, but ultimately wanted to do something through which he could be more engaged.  He thus decided on law school, and ultimately attended the University of Virginia School of Law.  Judge Bowen enjoyed law school and was able to continue his community involvement by volunteering for a public benefits project in Virginia.  He also became involved in journalism and wrote for the Virginia Law Weekly, focusing on social and cultural issues.
When finishing law school, Judge Bowen considered staying on the East Coast but ultimately returned to California, where he sat for the bar exam.  Thereafter, Judge Bowen looked for a career path through which he could combine litigation with his social justice values.  Serendipitously, he connected with the Chief Assistant Public Defender in Contra Costa County ("CCC"), which led to a post-graduate clerkship.  Thus, for a year following law school, Judge Bowen was a criminal research clerk.  Towards the end of this year his focus was on capital cases, through which he worked with the PD office's more senior attorneys.
The CCC Public Defender's office thereafter hired Judge Bowen as an attorney, and his first assignment was in juvenile dependency.  This was his first time having his own clients and going to court.  It was also his first peek into the world of children and the law.  Judge Bowen very much enjoyed this assignment.  It was a completely new and different area of the law for him.  As opposed to being a Public Defender in the classic sense – exclusively representing people charged with crimes – his clients included parties on all sides of the cases:  offending parents, non-offending parents, and children.  Thus, he was able to see all different perspectives.  Judge Bowen especially loved representing the children.
During this assignment, the Legislature modified appellate practice in Juvenile cases, to expedite appellate review of orders terminating parental rights.  This was important because the typical delays in appeals were creating a hardship for children who were placed with new families and then, sometimes after a year or more, reunified with birth parents when the appellate court reversed a termination order.  Judge Bowen thus became a specialist in juvenile writ practice.
Thereafter, Judge Bowen transitioned to felony cases.  He gained a great deal of trial experience, and very enjoyed his litigation practice as well as being a lawyer in general.
Over time, Judge Bowen began to think about next steps after moving on from being an advocate.  He was encouraged by other judges to consider a judgeship as a next step.  He thus ultimately completed the application and after 17 years with the Public Defender's office was appointed to the bench in 2010 by former governor Schwarzenegger, for CCC Superior Court.
Judge Bowen's first assignment as a judge was in the criminal division of the Richmond Branch.  At that time, the DVRO calendar rotated among the judges in Richmond.  This led to litigants often being before several judges, which was confusing for them and inefficient as different judges had to get up to speed on the same case.  Judge Bowen thus took over the Richmond DVRO calendar, lending it more stability and consistency.
After two years of criminal and DV work in Richmond, Judge Bowen was assigned to the CCC Family Law Department, in Martinez.  While there was some overlap with his prior juvenile and DV experiences, this assignment brough the entirely new challenge of learning about the financial aspects of support and property division.  Judge Bowen enjoyed the challenge of learning something new.  But what he really loved most about this assignment was the families.  For many, especially those with children, their cases remained active in his department for the entire five years that Judge Bowen served in this assignment.
While sitting in the CCC Family Law department, Judge Bowen was invited by a mentor, the Honorable Harvey A. Silberman of the Superior Court of Los Angeles County, to participate in an AFCC task force.  Judge Bowen thus was introduced to the AFCC and became a member.  He found that the AFCC embodied all of the things that Judge Bowen enjoyed about family law – most importantly helping families and especially children through difficult times, with the least amount of pain, and finding positive growth going forward.  Judge Bowen was thereafter invited to join the Board of the California Chapter, which he happily did.
Judge Bowen's favorite aspect of the AFCC is its multi-disciplinary aspect.  He has found that lawyers and judges can become "siloed" in their arenas, and including mental health practitioners in the dialog adds a great and valuable perspective.  Judge Bowen has especially enjoyed the Chapter's annual conferences, where he has developed friendships with other attendees and board members.  As a jurist, membership in the AFCC has helped Judge Bowen to maintain his focus on the most important aspect of family law and the law in general – the children.
After his fifth year in family law, Judge Bowen made the difficult decision to take a break, leaving while he still very much enjoyed the assignment and leaving the door open to returning to the family law department.  Judge Bowen is now the Supervising Judge for the Felony Department in Richmond.  This department now has a direct calendaring system, as is common in family law departments, and Judge Bowen oversees a set of felony cases through that process.
Starting in 2023 Judge Bowen will serve as the Assistant Presiding Judge of the Contra Costa County Superior Court.  In that assignment, and as the PJ after two further years, Judge Bowen should be able to use his family law experience to best govern the entire Court including the Family Law Department.  The CCC practitioners hope he will thereafter return to sit in our department once again.
The AFCC is deeply appreciative of Judge Bowen's service on our Board, and his service on the Court, all of which has benefited children and families in California.