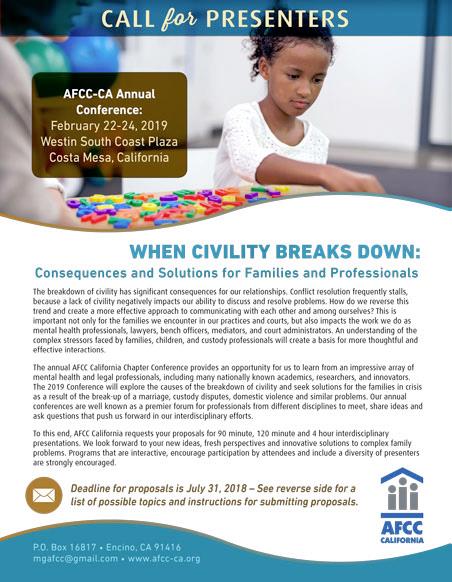 In February 2019, AFCC's California Chapter will present an interdisciplinary dialogue on When Civility Breaks Down:  Consequences and Solutions for Families and Professionals.  The conference will explore the causes of the breakdown of civility and seek solutions for families in crisis as a result of the end of a marriage or relationship, custody disputes, domestic violence and similar problems.  An understanding of the complex stressors faced by families, children and custody professionals will create a basis for more thoughtful and effective solutions.  Our annual conferences are well known as a premier forum for professionals from different disciplines to meet, share ideas and ask questions that raise the standard of practice across our areas of expertise.
The conference venue will be the Westin South Coast Plaza in Costa Mesa, California.  AFCC-­CA INVITES YOUR PROPOSALS for both 4­hour Pre-­Conference Institutes and 90 or 120-­minute Workshops.  See our Call for Presenters for proposed topics, as well as submission requirements and instructions.  The submission deadline has been extended to August 15, 2018.
AFCC-­California welcomes the participation of all professionals whose work involves issues related to the custody of children.
Save the date and join us in Costa Mesa in 2019!
Michael J. Kretzmer,  Esq.  Albert Gibbs, Ph.D.  Kendall L. Evans, Esq.