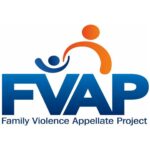 The Drown award is given by the California Chapter of the AFCC to recognize outstanding services to children throughout a person's career, or by an organization.  This award is named after Joseph Drown, who donated generously to the AFCC California to support its educational programs.  Prior recipients of the Drown Award include The Harriett Buhai Center for Family Law, Commissioner Marjorie Slabach, Jeanne T. Ames, Joan Kelly, Justice Donald B. King, and Judith Wallerstein.  (Please see full details on the AFCC-CA website.)
The California Chapter of the AFCC is honored to present the 2023 Drown Award to the Family Violence Appellate Project (FVAP).  FVAP is a California and Washington state non-profit legal organization whose mission is to ensure the safety and well-being of survivors of domestic violence and other forms of intimate partner, family, and gender-based abuse by helping them obtain effective appellate representation.  FVAP's work contributes to a growing body of case law that provides the safeguards necessary for survivors of abuse and their children to obtain relief from abuse through the court.  By providing pro bono appellate representation, FVAP helps to ensure access to justice for DV survivors in California.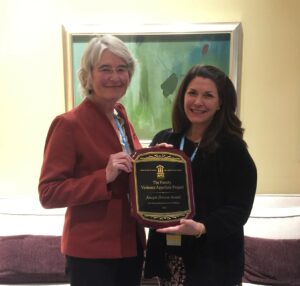 FVAP screens cases, and then partners with pro bono attorneys from California to provide free, high-quality legal representation to survivors, giving them the best possible chance at success in their appeal.  FVAP has prevailed in over 80% of its affirmative appeals — far above the California statewide average of 21% — and 93% of appeals it defends.  FVAP then leverages the effects of appellate opinions by providing training and legal support for legal services providers and domestic violence, sexual assault, and human trafficking counselors.  FVAP has participated in over 1,000 legal matters on behalf of California domestic violence survivors and their children, all on a pro bono basis.  This work has resulted in over 50 published opinions impacting survivors and their children seeking safety through courts in California, and two in Washington.
Ultimately, FVAP's goal is to break the intergenerational cycle of trauma and abuse.  Children who experience the trauma of domestic violence are more likely to continue the cycle of abuse when they grow up.  By making sure all kids have the chance to grow up in safe, healthy homes, FVAP is helping to build a better future for the next generation.
FVAP was founded in the spring of 2011, when Berkeley Law Professor Nancy Lemon and two of her students, Alex Scott and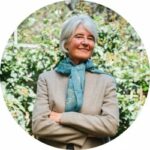 Sonya Passi, formed the organization.  Nancy's former student Erin Smith became the Executive Director in early 2012.  These four individuals built the agency from scratch and opened its doors in June 2012.  FVAP was the first nonprofit in California dedicated to helping domestic violence survivors with civil legal appeals.  FVAP has steadily grown over the years, and now has a team of over ten attorneys, paralegals and additional support staff.  FVAP is now also providing appellate representation in the State of Washington.
Finally, FVAP has contributed to the education of family law attorneys, mental health professionals, and judicial officers by presenting annual four-hour Domestic Violence Institutes at AFCC-CA's annual state conferences for a number of years now.  Their Institutes cover new cases published in California, statutory amendments, and social science studies relevant to domestic violence.
For all of these reasons, AFCC California is incredibly grateful to FVAP and honored to present it with the 2023 Joseph Drown Award for Outstanding Services to Children.
CLICK HERE to download FVAP's Outreach Flyer