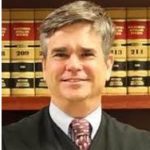 This is my first, and very brief, President's Message; I hope you enjoy reading this issue of AFCC-CA Insights.
According to urban legend, Steve Jobs once famously said that the way to predict the future is to create it.  In fact, this quote's provenance may reach as far back as Abraham Lincoln, perhaps even earlier.  Regardless of where the sentiment comes from, in 2020 we need to sit up and take notice.  At our recent conference in February (a scant few weeks ago) the quote of the day would no doubt have come from Alfred E. Neuman: "What, me worry?"  Unemployment was low, the market was high, we were flush with both toilet paper and Lysol wipes and virtually none of us had four legged co-workers or a work wardrobe that was accessorized with bunny slippers.  Who knew slightly over one month after the closing session, our courts would be effectively closed, we would be exercising our dogs within an inch of their lives, and we would know firsthand exactly how patient teachers are.  What a difference a few weeks made.  Nevertheless, we are where we are.
Individually and collectively the time has come for us to step forward and create the future; if we do not, we miss a golden opportunity.  Both sacred and secular traditions admonish us that we each have a unique purpose.  Perhaps this is just such a moment for AFCC-CA.  Because of its multi-disciplinary membership, AFCC-CA is able to consider family law issues from several different angles.   Should we allow remote DV hearings?  Should we mandate them?  How should virtual mediation work?  Is virtual mediation a blessing or a curse?  Is there an app for that?
As we slowly begin to return to what will be the new normal, both in our personal lives and our professional lives, we need to look into the future.  When the next crisis hits (and it most certainly will), how can we create systems now that will assist families and family structures that may not yet exist?  I like John F. Kennedy's approach when he talked about going to the moon.  He wisely said that we do these things "not because they are easy, but we do these things because they are hard."
None of us is leaving 2020 unscathed.  Do we leave 2020 with a clear plan for the future, or do we leave 2020 just happy that it is over.  The answer to that question is entirely up to us.
---
Judge Mark A. Juhas sits in a family law assignment on the Los Angeles Superior Court and has done so since November 2002.  He is a member of several committees for the Los Angeles Superior Court and for the Judicial Council where he has served on the CJER (Education) Governing Committee, Elkins Family Law Implementation Task Force, Self-Represented Litigant Task Force and the Family and Juvenile Advisory Committee, which he has co-chaired for over 10 years.  In addition, Judge Juhas is the current President of the California Chapter of AFCC.  He regularly provides training for judges, attorneys, and other family law professionals.