Lyn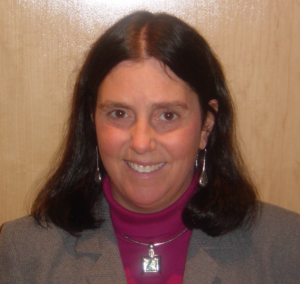 R. Greenberg, Ph.D., ABPP, is a dedicated and hardworking psychologist based in the Los Angeles area.  She specializes in work related to court-involved families and children, placing emphasis on providing parenting coordination, consultation, treatment and intervention services to those she serves.  Dr. Greenberg has been active in this industry for more than 35 years, and her many years of service exhibit her passion for psychology, family law, and making a difference in the lives of those she works with.  When I spoke with Dr. Greenberg, she was on her way to present at the AFCC-CA Chapter conference in Costa Mesa, and was excited that her upcoming edited book, "Evidence-Informed Interventions for Court-Involved Families: Promoting Healthy Coping and Development, "a collaboration of internationally known authors including "the AFCC all-stars."
Dr. Greenberg's passion for her work is evident in the way she enthusiastically and idealistically speaks of it.  She is fervent about providing the best services to her clients that she can through the combination of many disciplines and incorporating features from each of them.  "This particular field can be overwhelming with all of the information we need to keep track of, and it can be easy to miss information that is not explicitly labeled as a 'child custody' topic.  By the nature of their lives, children typically interact with a variety of settings, activities and relationships.  In order to be relevant to them, we need to understand that and be willing to work with a variety of people from different areas and systems.  Those settings also provide resources for helping children, especially if we start early.  … If you speak several languages – by which I mean if you can understand and engage with people in the areas of psychology, family and dependency law, and if necessary special education of the medical profession – you can often calm people down and help them to function better.  At the very least, some survival skills can be introduced to the child and a family that they may choose to use later or get help to move on with their lives.    Kids are still 'fixable' and kids can get better, and if we can harness resources, intervene early and get the right support from the court, we may do better at promoting improvement."  Dr. Greenberg uses the example of universal preschool, as seen in Australia and New Zealand, as one of these resources that could be incorporated into our current system.  She stated that "preschool teachers are often natural parenting instructors, and nationwide programs have been put in place that are promising for helping children who have experienced trauma to learn tools for developing into healthy older children and healthy adults."
Dr. Greenberg grew up in the suburbs of Chicago, Illinois and attended Indiana University, Bloomington where she attained her Bachelor of Science in Therapeutic Recreation (Recreation Therapy) with highest distinction, a Master of Science in the same field, and an equivalent B.A. in Psychology.   She describes herself as having been "kidnapped by a California guy" (her husband of 37 years) and made the move to California shortly thereafter. She earned her Master of Art in Psychology from California State University, Dominguez Hills in 1985 and her Ph.D. in Clinical Psychology from California School of Professional Psychology in July 1988.  She has a lengthy resume with several professional experiences and trainings ranging in a multitude of areas which include assessments of child abuse allegations, child interviewing, complex child custody case interventions including children with special needs, and serving as a forensic expert or consultant to attorneys and mental health professionals.  Dr. Greenberg has had her own private practice since 1988 in Los Angeles.  She has taught, presented, and consulted all over the country as well as in Australia, Israel, New Zealand, and Singapore.  She is as a licensed psychologist in California, Colorado, and Nevada.  She has also earned the American Board of Professional Psychology advanced specialization in Couple and Family Psychology, specifically for family forensics.
Her background in recreational therapy and special education have contributed important elements to her career and approach, as these professions focus on active, discrete, and behavioral steps to overcome traumatic events, family conflict, and other difficulties.   Her former professor, a founder of the modern recreation therapy movement, co-authored a chapter in her book.  She noted, "A lot of my cases are special needs cases, as well as other cases in which children have been abused or traumatized or have cemented dysfunctional behavior as a part of their response to overwhelming stress."  She notes that her approach includes assisting families with managing stress, mastering healthy coping skills, and successfully navigating both the crisis of the family separation and the daily demands of life.  "It's a matter of calming people down and looking at what is exactly being said and making sure families are engaging with all of the systems around them.  From the child's perspective, a healthy relationship with an adult can start anywhere."  She surprisingly landed in child forensic services by accident during graduate school.  She ended up working in a facility that was highly involved in a child sex abuse allegation that was not handled well.  She met her eventual supervisor in her first year of graduate school and her interests in the matter soared from there.
When I asked Dr. Greenberg what accomplishments she was most proud of, she responded that she does not really think that way.  She is very humble about her work, but she noted that she has had some peak experiences in her career.  One of these was serving on AFCC's Task Force on Court Involved Therapists.  "I was able to work with incredibly intelligent people and under the leadership of incoming AFCC President Matthew Sullivan, Robin Deutsch and Linda Fidnick."  She is also excited about her first book, "Evidence-Informed Interventions for Court-Involved Families: Promoting Healthy Coping and Development," which is intended to serve as a resource to help evaluators and other professionals locate relevant research on the best ways to assist children and families and learn what issues to consider in making recommendations for services.  "Not all interventions are equally effective, and families can be seriously harmed when findings or treatment plans don't incorporate existing professional knowledge."
Dr. Greenberg noted that she is incredibly grateful to her co-editors Barbara Jo Fiedler and Michael Saini, and to the outstanding group of contributors who wrote chapters for the book.    She had published her initial treatment model with her co-author and close friend, Lynda Doi Fick, M.A., MFT.  She described working with Ms. Doi Fick on their treatment model, Child Centered Conjoint Therapy, making notes "on the back of fast food napkins" during the years in which they shared an office.  Ms. Doi Fick was the victim of a homicide in 2017, so she was never able to complete the book project.  Dr. Greenberg continues to teach the model and its subsequent modifications locally, nationally, and internationally.  Dr. Greenberg was honored by the number of authors from AFCC who came together to contribute and help her complete the project.  Dr. Greenberg, Judge Robert Schnider (Ret.) and Lynda Doi Fick (posthumously) received the Meyer Elkins Essay Award for their publication, "Catching Them Before Too Much Damage is Done: Early Intervention with Resistance-Refusal Dynamics," which she stated was a bittersweet experience to accept without Ms. Doi Fick.  She was also honored to have been awarded Fellow Status from the American Psychological Association Society of Family Psychology in 2008.  Dr. Greenberg has always been proud of her work in California.  She consulted with the California Psychological Association and has proudly been a member of AFCC for several years, serving on AFCC-CA's Legislative Committee, the continuing education committee of the national organization, and on the editorial board of Family Court Review.  She enjoys mentoring younger professionals.
"The AFCC Family is passionate about making it better for kids.  The people we see at the meetings are the ones who want to see a change and really care about seeing things improve.  It is not always the culture at other professional organizations.  The culture here is to make things better for the families we serve.  That is what keeps people engaged – the chance to make a difference."  She would like to see AFCC-CA, as well as the national organization, get behind early intervention and mentor therapists, other professionals, and evaluators to hopefully nurturing service providers and bring models into practice that are being used elsewhere at an affordable price.  "I think there are a lot of models – we hope that divorce is a just phase in a child's life – after evaluation is over, there are a lot of other ways we can support them.  I'm very sympathetic to how things are for both families and professionals in the system right now.  There are challenges and there are a lot of systems involved in these challenges.  If there is a group that has the possibility to make things happen, AFCC is that group."
When she is not working, Dr. Greenberg enjoys spending her time with her husband.  "I have been married to a wonderful radiologist for 37 years.  We like hiking, snowshoeing, scuba diving, art, travel, theater, and dance, as well as just hanging out with friends."  She is an avid yoga enthusiast; anyone who knows her knows that she loves yoga!  She also plays the guitar.
In addition to her own practice, this summer Dr. Greenberg will be working in New Zealand with government ministers regarding the many changes to both Australia's and New Zealand's family law system, presenting at the Australia chapter conference and other international venues.  Be sure to check out her book "Evidence-Informed Interventions for Court-Involved Families: Promoting Healthy Coping and Development," which is due to be released on March 19, 2019.  For more information about her current projects, visit her website at http://www.lyngreenbergphd.com/.