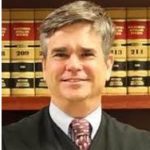 So, here we are. 2020 has not been kind to us. In fact, I think we all would agree that we are looking forward to December 31, 2020 not so much to ring in the new year but to boot out the old. The deafening whooshing sound around midnight will not be the escape of champagne from bottles, but more likely our collective sigh of relief to see 2020 in the rearview mirror.
Having said that, it seems that it is not all bad.   With slight modification, the Post Office's creed accurately describes the family law community: neither snow nor rain nor heat nor gloom of night stays family law from the swift completion of its appointed rounds.  Family law's various practitioners are remarkably resilient. Lawyers, courts, and mental health professionals have stepped up to the plate in significant ways. We have tried cases virtually. We have mediated cases virtually.  Mental health professionals have provided much-needed counseling virtually. While technology is not without its warts, it has opened up whole new possibilities to serve families. It seems 2020 has allowed us to exponentially increase problem solving avenues for families.
We must continue to be vigilant, however. Courts across the state responded with inconsistency to the pandemic. We are all suffering from Zoom fatigue. Technology isn't quite as reliable, or predictable, as we might like. Technology is not equally available to all; we have seen that in various news reports on virtual schooling. That is also true for rural Californians and those in other communities where technology solutions are simply not routinely accessible. While technology offers vast opportunities, we must make sure that those opportunities are universal for all Californians. Additionally, too much reliance on technology may put some vulnerable populations, such as domestic violence victims among others, at increased risk.
We need to celebrate the things we have done well. But, as a community, we need to be self-reflective in those areas where we have not met our promise of service to families. There is no doubt that the family law community is well up to this challenge. There is equally no doubt that the family law community will overcome the challenge as it has so often in the past.
Now, go out, get a bottle of your favorite bubbly and socially distance on December 31.  Let's all bid a fond and heartfelt good-by to 2020.
---
Judge Mark A. Juhas sits in a family law assignment on the Los Angeles Superior Court and has done so since November 2002.  He is a member of several committees for the Los Angeles Superior Court and for the Judicial Council where he has served on the CJER (Education) Governing Committee, Elkins Family Law Implementation Task Force, Self-Represented Litigant Task Force and the Family and Juvenile Advisory Committee, which he has co-chaired for over 10 years.  In addition, Judge Juhas is the current President of the California Chapter of AFCC.  He regularly provides training for judges, attorneys, and other family law professionals.